One of the reasons I love angels is because they are always a part of our lives. Whether in human form, or as spiritual beings, God tells us that they are innumerable.
Heb 12:22
but ye are come unto mount Zion, and unto the city of the living God, the heavenly Jerusalem, and to
innumerable
hosts of angels,...
They surround us as mighty warriors and protect us as God wills.
Have you ever talked with anyone that has been touched, in a special way, by God, through an angel? They speak in soft, powerful tones that create an aura of His presence and personification.
It's difficult to doubt their story as they share in depth and detail why they know that something supernatural has happened.
My Mom loves angels, they surround her in her home and comfort her thoughts before she sleeps at night. As she prays to her heavenly Father, she remembers His love and protection over her.
Angels touch us in a special way and you'll see them sprinkled throughout my designs.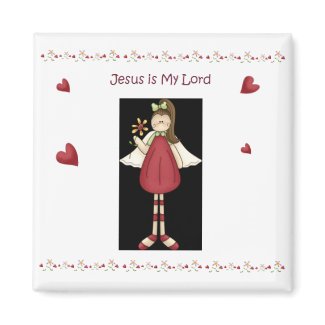 Jesus is My Lord
by
colleengainey
Get
fridge magnets
at zazzle