My husband just called to me and read a portion of scripture that dealt with the Lords coming as a "thief in the night" and how we were to be prepared, with cloak and clothes ready, so as not to be ashamed when the time came.
We pondered that and since we knew that the Lord cares little about the outward appearance and much more about the heart. We came to the conclusion that He must have been referring to our being clothed in Righteousness.
How often I forget that the "clothing" the Lord finds pleasing is that which is created with a righteous spirit.
According to Wikipedia:
Righteousness
(also called
rectitude
) is an important
theological
concept in
Judaism
and
Christianity
. It is an attribute that implies that a person's actions are justified, and can have the connotation that the person has been "judged" or "reckoned" as leading a life that is pleasing to God.
So how do we become righteous? Not of ourselves, certainly, but by the blood of the Only One who was Righteous, Our Lord and Savior, Jesus Christ.
2Ti 4:8
henceforth there is laid up for me the crown of righteousness, which the Lord, the righteous judge, shall give to me at that day; and not to me only, but also to all them that have loved his appearing.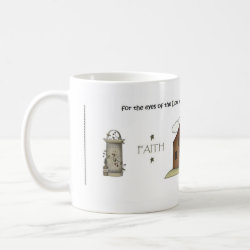 Eyes of the Lord Mug
by
colleengainey
View other
Mug Mugs